Notice: Undefined offset: 1 in /var/www/vhosts/regensburger-touristen-guide.de/httpdocs/includes/c_location.php on line 67 Call Stack: 0.0001 653216 1. {main}() /var/www/vhosts/regensburger-touristen-guide.de/httpdocs/index.php:0 0.0013 772432 2. include_once('/var/www/vhosts/regensburger-touristen-guide.de/httpdocs/controller.php') /var/www/vhosts/regensburger-touristen-guide.de/httpdocs/index.php:4 0.0019 866400 3. include_once('/var/www/vhosts/regensburger-touristen-guide.de/httpdocs/includes/c_location.php') /var/www/vhosts/regensburger-touristen-guide.de/httpdocs/controller.php:78 Notice: Undefined offset: 1 in /var/www/vhosts/regensburger-touristen-guide.de/httpdocs/includes/c_location.php on line 72 Call Stack: 0.0001 653216 1. {main}() /var/www/vhosts/regensburger-touristen-guide.de/httpdocs/index.php:0 0.0013 772432 2. include_once('/var/www/vhosts/regensburger-touristen-guide.de/httpdocs/controller.php') /var/www/vhosts/regensburger-touristen-guide.de/httpdocs/index.php:4 0.0019 866400 3. include_once('/var/www/vhosts/regensburger-touristen-guide.de/httpdocs/includes/c_location.php') /var/www/vhosts/regensburger-touristen-guide.de/httpdocs/controller.php:78 Notice: Undefined offset: 1 in /var/www/vhosts/regensburger-touristen-guide.de/httpdocs/includes/c_location.php on line 287 Call Stack: 0.0001 653216 1. {main}() /var/www/vhosts/regensburger-touristen-guide.de/httpdocs/index.php:0 0.0013 772432 2. include_once('/var/www/vhosts/regensburger-touristen-guide.de/httpdocs/controller.php') /var/www/vhosts/regensburger-touristen-guide.de/httpdocs/index.php:4 0.0019 866400 3. include_once('/var/www/vhosts/regensburger-touristen-guide.de/httpdocs/includes/c_location.php') /var/www/vhosts/regensburger-touristen-guide.de/httpdocs/controller.php:78 Notice: Undefined offset: 1 in /var/www/vhosts/regensburger-touristen-guide.de/httpdocs/includes/c_location.php on line 295 Call Stack: 0.0001 653216 1. {main}() /var/www/vhosts/regensburger-touristen-guide.de/httpdocs/index.php:0 0.0013 772432 2. include_once('/var/www/vhosts/regensburger-touristen-guide.de/httpdocs/controller.php') /var/www/vhosts/regensburger-touristen-guide.de/httpdocs/index.php:4 0.0019 866400 3. include_once('/var/www/vhosts/regensburger-touristen-guide.de/httpdocs/includes/c_location.php') /var/www/vhosts/regensburger-touristen-guide.de/httpdocs/controller.php:78
Current position: Popular Buildings » Adam Weishaupt Engelburger Gasse

Regensburg:
The Adam Weishaupt Shelter / Engelburgergasse
The founder of the Illuminati, Adam Weishaupt, lived in the Engelburggasse from 1785 to 1787 in Regensburg. This is suggested from an 18th century engraving, where the house with the number 8 is visible in the background. On May 1st 1776, the order of the 'Federation of the Perfektibilists' was founded by Weishaupt in Ingolstadt. This order would later be renamed the 'Order of the Illuminati' (Latin illuminati = the enlightening). Despite what many fi lms and books claim, the goal of the order had nothing to do with sinister and evil powers. In contrary, a 'light of reason' which was long oppressed by church dogmas was to be exposed in order to create a new world order. Government, religion, and education were to be completely reformed. Virtue, wisdom, and science should be victorious over persecution and despotism. High ranking nobles and celebrities of the time, such as Goethe, would become Illuminati. In 1785, the Bavarian sovereign Karl Theodor had banned the Illuminati for all of Bavaria. Adam Weishaupt was then forced to fl ee to Regensburg on the 16th of February 1785, dressed as a craftsman. On July 20th 1785, the priest and fellow Illuminati member Johann Jakob Lanz visited him. As Lanz was walking near the city gate, he encountered a heavy storm. As if god was outraged by his bold affi liation, lightening stuck Lanz and he was killed immediately. A list of members to the Illuminati was found in his clothing. The free city of Regensburg was then pressured to deliver Weishaupt out of the city limits. Bavaria had even commissioned spies to arrest Weishaupt the second he was to step foot on Bavarian soil (for example Bavarian Stadtamhof). Weishaupt then fl ed to Gotha's ducal court in 1787. The Illuminati would continue to be slandered and persecuted while Weishaupt attempted to clear the name and rehabilitate the order. He never quite succeeded in doing this and later died in 1830.
View on the map

Address & opening times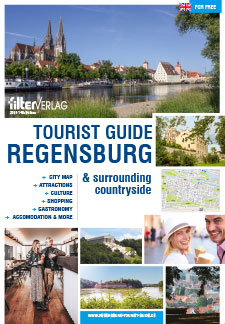 Free Download - get it now!
The Regensburg Tourist Guide explains compactly and clear the most important places of interest of our beautiful town. With it you find all information about our medieval jewel at hand. But because sightseeing is not everything, we also introduce you to an exclusive choice of high-quality bars, shops, hotels and spare time activities. You receive the Regensburg Tourist Guide free of charge at the tourist information at the City Hall Square as well as at many hotels, shops and museums. Moreover you have the possibility to download it here for free and print it.
Are you looking for a hotel in Regensburg but it should be something special? Are you already planning a dinner at the romantic Old Town, not anywhere, but at one of the best restaurants in town? Do you want to have an exclusive pre-selection of shops in Regensburg and don't want to waste time with looking for them? Our Regensburg Guide is the ideal manual for your perfect stay.
You will need Adobe Acrobat Reader to read and print these documents. Click
here
to download this free program.